Be a Hero ... Become a Member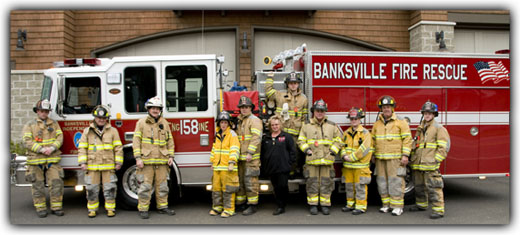 We Need Your Help!
The Banksville Fire Department is comprised solely of men and women who volunteer to respond to your call for help. We currently need volunteer firefighters and emergency medical technicians, as well as others interested in providing support in the areas of fund raising, public relations and administration. No firefighting or emergency medical experience is required. You supply the desire to help others in their time of need, and we'll provide the necessary training and equipment.
Who can be a volunteer firefighter or emergency medical technician?
accountants, administrative assistants, business managers, carpenters, computer specialists, cooks, doctors, electricians, landscapers, lawyers, mechanics, nurses, plumbers, retirees, sales persons, stay-at-home moms and dads, students, teachers, truck drivers, YOU!!!
If you can give just a few hours a month, please contact us for more information. We need your help!
Email: info@banksvillefire.org
Recruitment Hotline: (914) 774-1027
Click here for a copy of the BIFD Application Form
Video: "A Look Inside the Banksville Fire Department"
Article: Banksville Fire Department Always Welcomes New Volunteers
More videos about being a volunteer firefighter or EMT
from the New York State Office of Fire Prevention and Control
Important Qualities
Training
Serving in the Community
Life in the Firehouse
Women in Today's Fire Service
Reflections
Volunteer Firefighter Recruitment (full video)